Canon has announced that the PowerShot Peak, an active tracking PTZ camera originally launched in Japan, is coming to the US. A portable camera provides a hands-free solution for capturing clear photos and videos automatically.
The PowerShot PICK is built on face detection and tracking technology that allows it to track and automatically capture events based on what it "sees". The camera recognizes smiles and can be programmed to capture photos or videos without any interaction from the user.
The camera debuted in Japan in January 2021 with a crowdfunding campaign that was very successful. In October, PICK received an international release into Europe.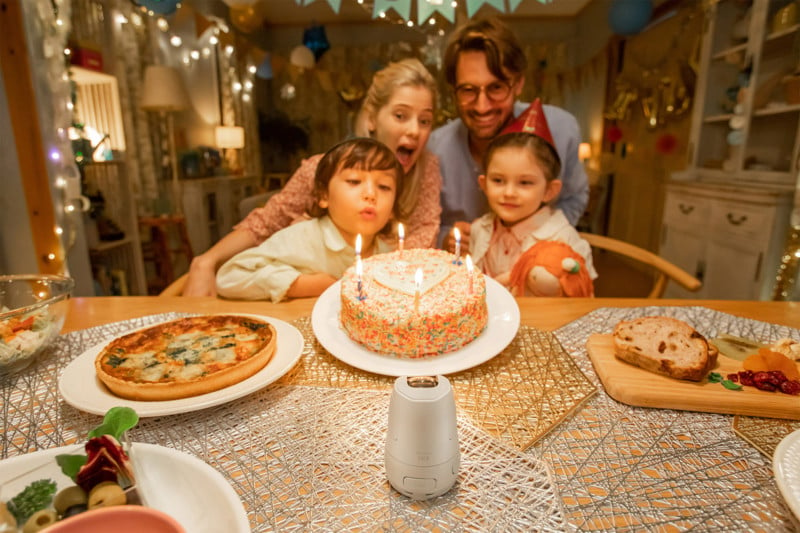 The PICK features up to 340-degree panning motion and tilt capabilities between -20 and 90 degrees. A 3x optical zoom (through the 19-57mm lens that also has automatic image stabilization) coupled with a 4x digital zoom lets you track subjects with its self-tracking and photo capture features. The PICK is battery-powered, has support for voice commands, takes 11.7-megapixel photos, and can shoot Full HD 1080p video at 59.94, 29.97, and 23.98 frames per second (fps) footage.
When the camera was first announced, Canon argued that allowing AI to take pictures would have two benefits. For example, in addition to freeing up the parent who would normally be responsible for taking pictures, the camera feature is small and forgettable, leading to "real" photos rather than captured images. This mimics the benefits of hiring a photographer to document the day, but brings that benefit to any situation.
The PowerShot PICK requires the MiniPTZ mobile app for compatible iOS, iPadOS and Android devices. The app includes features like setup settings, manual remote control of the camera, automatically generated highlight videos (iOS only), and the ability to browse and select favorite photos and videos to download.
"PowerShot PICK is a great way to film your next social media post or home video. Whether you want to record a cooking lesson or a dance video, PICK can easily record them, Cannon says.
The PowerShot PICK will be available in late summer 2022 for $500.