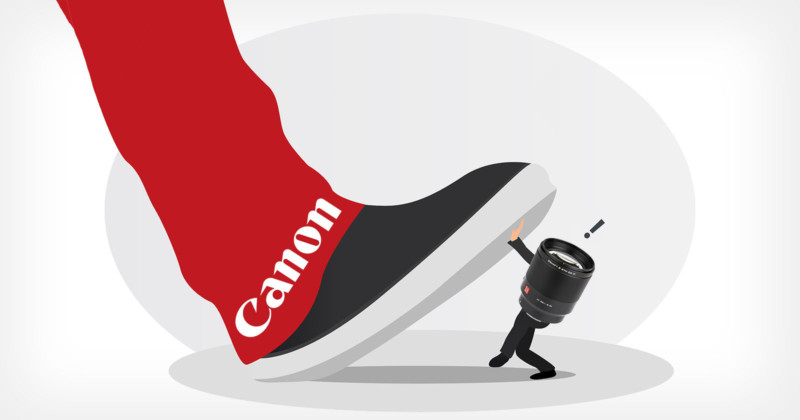 Canon has spoken its quietest part loudly: it doesn't want you to spend any of your money on non-Canon products. This is a huge mistake, and I urge the company to rethink this strategy.
Earlier this week, we confirmed that Canon had ordered at least one third-party lens manufacturer – namely Viltrox – to stop releasing autofocus RF-mount lenses. As Viltrox seems to have taken all the RF lenses out of its library with great care, the need must be very strongly defined.
Viltrox reverse-engineered Canon's RF mount and autofocus communications because Canon doesn't have a license to mount, so it's not given many options if it wants to offer lenses to Canon shooters. That's why we haven't seen Tamron or Sigma produce any RF lenses: Canon wants full control over the optics for its mirrorless system. Canon was not happy with Viltrox being able to work on the RF mount for autofocus and was forced to stop producing those lenses.
Canon hasn't said as much publicly, but it's clear that the company's reason for not licensing the RF mount and pursuing anyone who reverses engineers with legal threats is financial. Canon wants to be a seller of cameras and lenses to its customers.
I think most photographers were fine with the understanding that no third-party lenses (usually much cheaper than first-party alternatives) would be available for at least the first few years of the system, as the company had proven the new's viability. Plugged in and built his own lineup of lenses. But eventually the expectation was that there would be some choice since it has been in the DSLR space for decades.
Well, not if the canon has anything to say about it. This is a terrible, short-sighted plan on Canon's part.
The first camera I ever owned was a Canon Rebel. I was very young and unemployed so I had to be very picky about which camera parts to buy in order to have the spare cash to buy the lenses of my choice (I wasn't a fan of the kit lenses that came with cheap cameras at the time). I bought a Sigma lens and used that combination for years before upgrading to a 5D and a first party Canon lens.
I stayed in the Canon system and continued to buy Canon. I continue to shoot canon to this day.
But if Canon had done what it does now, I would have looked elsewhere for the simple fact that I wouldn't have bought the Canon.
Sony has licensed E-mount to third-party manufacturers for years, which is why there are so many third-party E-mount options. Earlier this week we confirmed that Nikon is doing the same, which is why Tamron is set to release its first Z-mount lens later this year.
Canon now stands as the only one of the "big three" camera manufacturers to not only license a mirrorless mount, but to deny third-party support for its systems.
The message it sends to buyers isn't particularly exciting, and that's a big mistake coming from the company that has dominated the DSLR space. from different manufacturers.
It's not like third-party lenses will completely replace first-party glass. For me and many other third-party opticians, the coveted Red Line lenses were the bridge we took until we had enough money. They were what they wished for.
Canonically, this is shameless corporate greed, and your customers are too smart not to notice. There is still time to fix this. Do the right thing.
---
This story comes from PetaPixel's weekly newspaper, Clipped main news.
what is it Clipped main news?
Clipped main news It's a free, syndicated weekly newsletter delivered every Wednesday morning that focuses on a few of the most important stories from the past week and explains why they're worth paying attention to. This newsletter differs from our daily news briefs in that it provides exclusive insights found only in Clipped main news.
In addition to special events on the biggest stories in photography, art and technology; Clipped main news It also serves to showcase at least one photo series or art project that we think is worth your time to view. So often in the technology and imaging space we focus on the how and not the what. We think it's important to look at the art created by photographers around the world and respect the new technologies that make that art work.
If this type of content sounds like something you're interested in, we encourage you to sign up for free Clipped main news newspaper today. No registration required to make sure it's what you want in your inbox, you can read this week's issue here.
We also make sure to share every issue. Clipped main news Here PetaPixel So if you're not a fan of email, you don't have to miss the weekly newsletter.
---
Image Credits: Photos licensed via Depositphotos.