FIRST ON FOX: A group of energy and environmental experts are expressing alarm at US climate policy and point to the European crisis as an example of "blindness" to abandon energy security.
In a letter Tuesday, a coalition of six experts urged congressional Republican leaders — Senate Minority Leader Mitch McConnell, R-Ky., and House Minority Leader Kevin McCarthy, R-Calif. – consider how green policies have contributed to the energy crisis in Europe. They added that the crisis proves that US lawmakers need to strengthen, not "compromise," energy security.
"The actual environmental benefits of 'green' energy are few and far between, if any. However, its economic and national security impact is immeasurable," the experts wrote in the letter. "Compromising America's energy security because of climate alarmism is more than a mistake, it's a big mistake – just look at Europe."
"Protecting our nation's energy economy and independence must be a priority," they continued. "Europe's energy crisis remains a clear and present warning of what could happen if we continue down this path, let's not blindly follow a similar disaster."
EXPERTS WELCOME GREEN ENERGY PRINCIPLES IN EUROPE'S ENERGY CRISIS: 'WARNING US'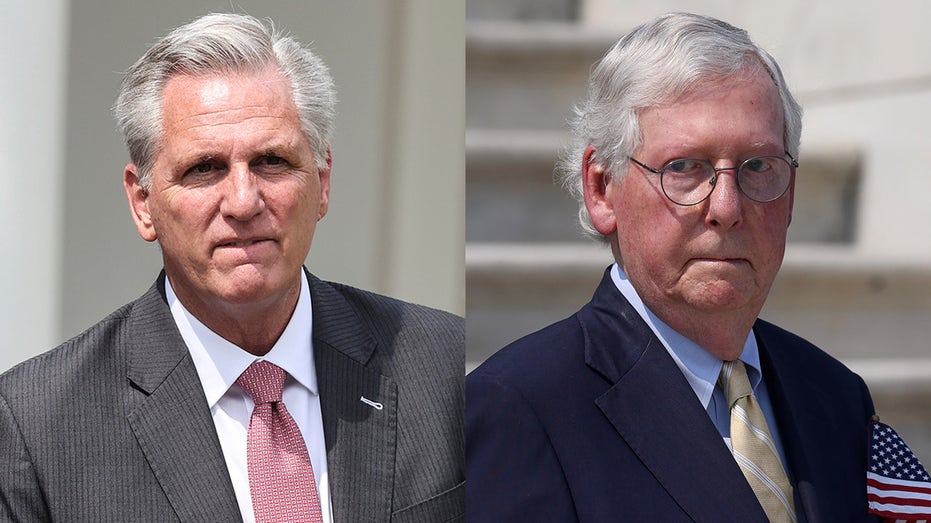 In recent months, European consumers and businesses have been hit with huge energy bills due to Russia's invasion of Ukraine, which has boosted global oil and gas markets due to Russian producers' control, and a drastic shift to green energy sources such as wind and solar power. many European countries.
During the crisis, Europeans have been forced to take drastic measures to save energy and keep debt low while governments impose austerity laws and introduce aid programs. The letter noted that the crisis has forced manufacturing businesses to close and will lead to blackouts throughout the winter in Germany.
EUROPEAN PEOPLE WILL INCREASE WOOD BURNING FOR ENERGY BEHIND GREEN POLICIES, RUSSIAN WAR, LEAVING DESTINATION COUNTRIES.
"For political reasons, Europe chose to rely on renewable energy and oil from hostile sources – in this case Russia," James Taylor, president of the Heartland Institute think tank, told FOX Business in an interview. "Here in the United States, we're being told by the environment left, by the administration, that we have to choose the same path, that we focus on renewable energy. That's just a bad path."
"In Europe, you see electricity prices that are almost double what they are here in the United States," he continued. "That, again, because of the choice they made in renewable energy and trusting a hostile nation. We're setting ourselves up for the same thing, which would definitely be a bad idea."
Taylor was among the experts who signed the letter to McConnell and McCarthy on Tuesday.
He was joined by Craig Rucker, president of the Building Tomorrow Committee; Kent Lassman, president of the Competitive Enterprise Institute (CEI); Myron Ebel, director of CEI's Center for Energy and Environment; Gregory Wrightstone, executive director of the CO2 Coalition; and Steve Milloy, senior attorney at the Energy & Environment Legal Institute.
NETHERLANDS JOINS GERMANY, AUSTRIA, ITALY IN RETURN TO COAL Amid RUSSIA INVASION IN UKRAINE
"What I'm hearing from the eco left is that the solution to our energy problems is wind and solar — we haven't done enough," Wrightstone told FOX Business in an interview. "The fact of the matter is: for every megawatt or terawatt of unreliable energy, you have to build the same number of reliable sources of storage."
"The first, is when the wind stops blowing and the sun stops shining. So, what we're doing is probably doubling the cost of generating electricity and then all that equipment that's built, will sit idle until it's needed."
While energy analysts have warned that Europe could turn to green energy sources too quickly, European Union leaders have doubled down on the transition. European Commission President Ursula von der Leyen said in August that the traditional electricity market model is "no longer fit for purpose."
Last year, the EU unveiled a framework for a major reform of energy policies that included a plan to drastically reduce carbon emissions by investing more in renewables and reducing the purchase of gas-powered vehicles. The Biden administration has taken a similar approach, reducing fossil fuel production and pushing solar, wind and electric cars.
"All of these things put us on the path to becoming Europe and climate stupidity has caused all the problems that are going on in Europe right now," Milloy told FOX Business.
"They started getting rid of their coal plants, replacing them with wind and solar," added Milloy. "In the case of Germany, Germany spent more than 500 billion dollars to do that. You get to 2021 and suddenly, the wind stops blowing in Europe or decreases a little. And that started the energy crisis because if there is no wind. , then you have to burn a lot of natural gas. "
CLICK HERE TO LEARN MORE ABOUT THE FOX BUSINESS
An analysis from Reuters published in December concluded that lower-than-expected wind power production has caused EU energy prices to rise and forced a return to natural gas and, in many cases, coal. Between 2019 and 2021, wind power alone accounts for the largest share of electricity production in Germany, the EU's largest economy.
Milloy said that when EU countries returned to natural gas, they were forced to increase sales to Russia, encouraging Russian President Vladimir Putin to continue his attack on Ukraine.
"The whole thing has been a disaster for Europe," he said.