Photo courtesy of Artechouse.
Thanksgiving is next on the holiday calendar, but you're probably ready to trade the fall pumpkins for festive wreaths and Mariah Carey Christmas tunes. For an early start to the holiday season, these flea markets, light displays, and fairs offer Christmas cheer—before the turkey hits the table.
Czech Christmas Market
3900 Spring of Freedom St., NW
The Embassy of the Czech Republic is hosting a holiday market with singers November 5 from 9:30 AM to 6 PM. Wash down mulled wine and nosh on Czech pastries while browsing glassware, jewelry, jewelry, and other products. Valid boarding passes are required.
Luckett's Holiday House
42350 Lucketts Rd., Leesburg
The old store houses the rooms of its theater, where visitors can buy the decoration. November 10 to December 11 on Thursday through Sunday. Each space is dressed in a different aesthetic, such as a cool landscape or a red and green room. Tickets cost $25 in November and $20 in December.
Winter Walk of Lights
9750 Meadowlark Gardens Ct., Vienna
Walk to Meadowlark Botanical Gardens from November 11 to January 8 for half a mile of holiday lights. If you're looking for a shot of natural light, pop into the gazebo with a hot drink. Tickets start at $16.
Bull Run Festival of Lights
7700 Bull Run Dr., Centerville
No need to leave the car for this car show, which is open November 11 to January 8. The two-and-a-half-mile parade features holiday characters such as Santa Claus, glittering wreaths, and a fleet of reindeer. Tickets start at $30 per car.
A Christmas Carol
511 10th St., NW
Ford's Theater will present its 43rd annual Charles Dickens classic from November 18 to December 31. The ghosts of Christmas past, present, and future will take the stage during the two-hour show. Tickets start at $26.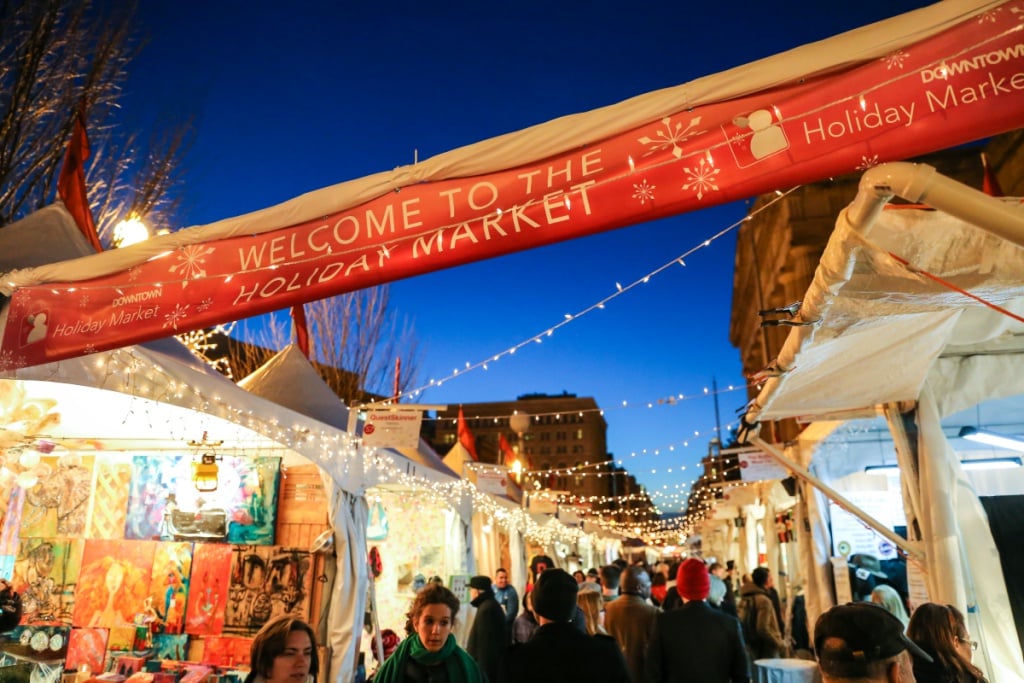 Amazing Factory
1238 Maryland Ave., SW
Trippy nutcrackers, a candy-cane carousel, and lots of wreaths are part of the festive display at the Artechouse interactive museum. Fans can visit the holiday show from November 19 to January 8. Tickets cost $25.
Village of Ice and Light
4001 Eisenhower Ave., Alexandria
A large wreath and walk-in Christmas tree are among the photo booths that light up Cameron Run Regional Park. November 18 to January 1. There is also an ice rink. Tickets start at $8.
Maryland Christmas Fair
797 E. Patrick St., Frederick
Take a picture with Mr. and Mrs. Claus at the holiday store, which comes from November 18 to November 27 on Friday through Sunday. The Christmas market consists of seven houses, selling food and gifts under the tree. Tickets are $10 for adults and $4 for children ten and under.
Holiday market in town
F St. between seventh and ninth sts., NW.
Two blocks in downtown DC have been transformed into an outdoor market with over 75 vendors November 18 to December 23. Listen to live music while shopping for iconic DC brands, gourmet food, kitchen items, and more. It's free.
A Christmas Drag Queen
1215 U St., NW
Your favorite queens RuPaul's Drag Race will be held in this holiday extravaganza at Lincoln Museum November 19. Hosted by Trinity the Tuck, the 8 PM show will include epic lip syncs, killer beats, and glittery makeup. Tickets start at $35.