The earbuds are yet more proof that he knows how to make good-looking gadgets (if that's what it takes). The startup's second set of headphones is somehow even more unique than last year's Ear 1, with a cosmetic-inspired design that's equal parts case and fidget spinner.
This time comfort is the focus. Instead of being pushed into your ear canal, these buds simply rest on your ear like Apple's AirPods. Those who find silicone tips too faithful or create a fit will be pleased as punch with the change – but everyone else may be saddened by the cancellation of active voice.
The arrival of earbuds is matched by a price hike for the Ear 1, making them an entry-level offering of anything. At £99 they even undercut the previous gen Apple AirPods – but with a very limited feature set, is this a matter of style over substance?
Design and Construction: Fully tubular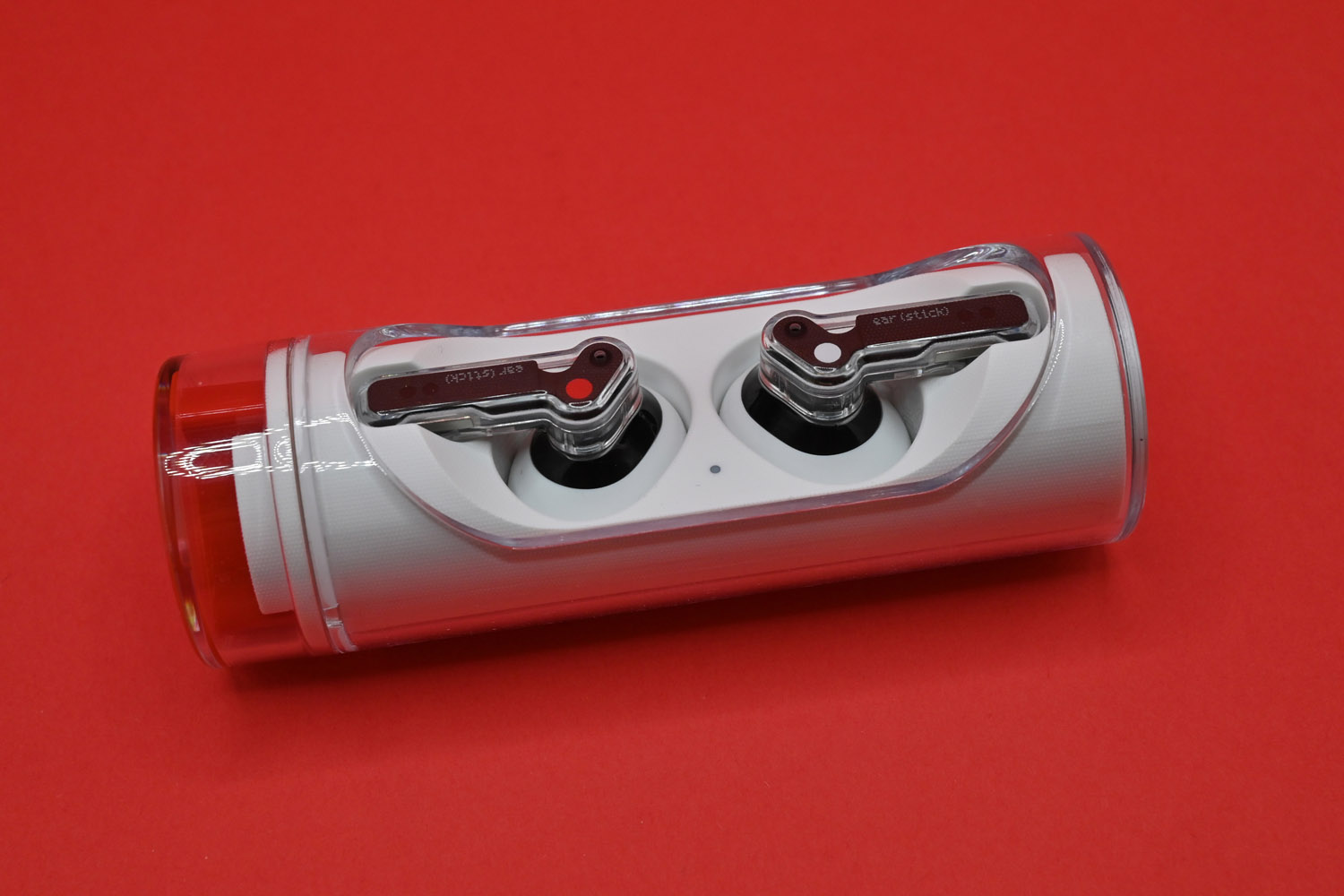 At first glance, none of the Earstick buds are any different from the Ear1s: same black and white color scheme, same clear stems showing internal circuitry. For the part that goes into your ears, though, it's all change. The speaker housing is now just a single bulb, with no silicone tip to keep it locked in your ear canal.
Nothing beats going through 200 iterations to get a shape that stays in place as you move around, and the sound quality sitting next to your ear compares to a pair of in-ears that don't sink in and yet feel comfortable enough. To wear 24/7. A tall order, but one we think comes pretty close to it.
No headphones are going to be as secure as real ears, and of course there's still some movement, but not so much that we have to constantly adjust. A walk to the shops? They stay, no problem. Finishing 5K without popping one, however, will be a tall order. IP54 water resistance means you'll stay away from sweat, but a leisurely workout is more suited to gym-goers than distance runners.
They're smaller than the Ear 1 at just 4.4G, and because they don't put any pressure on your ear canal, we can wear them until the batteries run dry without any discomfort. Everyone's ears are unique, so YMMV – if you struggle to keep a pair of AirPods in place, these are a little better.
The tubular charge case, on the other hand, is a huge departure from previous efforts. It's like a giant lipstick, with an outer shell that reveals headphones hidden inside. Long and thin, not flat and square like the Ear 1, it fits easily into a pocket and takes up less room overall while in there.
Opening and closing the lid is incredibly satisfying – think flipping a Zippo lighter open and closed, or clicking a ballpoint pen, slightly annoying everyone around you. Internal magnets open or close it fully as you rotate it, ensuring that buds can't fly off the case.
A USB-C charging port sits on top, along with a silver button that initiates the Bluetooth pairing process for any gadgets that don't play well with Google Quick Pair or Microsoft Swift Pair. Naturally, no phone will find 1 automatically.
Features and battery life: Stick with me
The buds start looking for a pre-paired device as soon as the case is opened, and usually stay connected until you find them in your ear. Once there, they play a short electronic noise to gauge the bass response, and adjust the EQ accordingly. Place the buds at the same time, and the noise will play only on the first – not the second.
Triple microphones use updated sound algorithms to cut out background sounds more than Ear 1 when taking calls. Even when we were out and about, we had no complaints from the people we spoke to on the phone.
The Nothing Ear 1 companion app has been replaced by the Nothing X app, which handles more fine-grained EQ adjustments and customizable touch controls. Now instead of tapping, you squeeze the stems to trigger playback, skip tracks, adjust volume, or activate your phone's voice assistant. We normally activate ear 1 when we put the knobs in place, but it's okay here. In-ear detection also seems more consistent.
Communication has also improved. The wireless antennas have been moved from the center of the trunk to the top, so they're away from your face (which is surprisingly good at blocking wireless signals). We had no interruptions during the test, even when walking through a busy train station terminal, and connected to our phone across two floors and multiple walls indoors.
Battery life isn't to be sniffed at, listening to about seven hours from the buds before earning a trip to the charging case. The case is good for three full charges and a little more for a dozen, for a combined 29 hours. We got there experimentally with playback streaming slightly faster at high volume.
A quick charge puts the buds up and running twice as fast, and ten minutes is enough for two hours of listening. The case relies solely on USB-C for power, with wireless charging provided for the affordable Ear 1s.
Sound quality: moderate compromise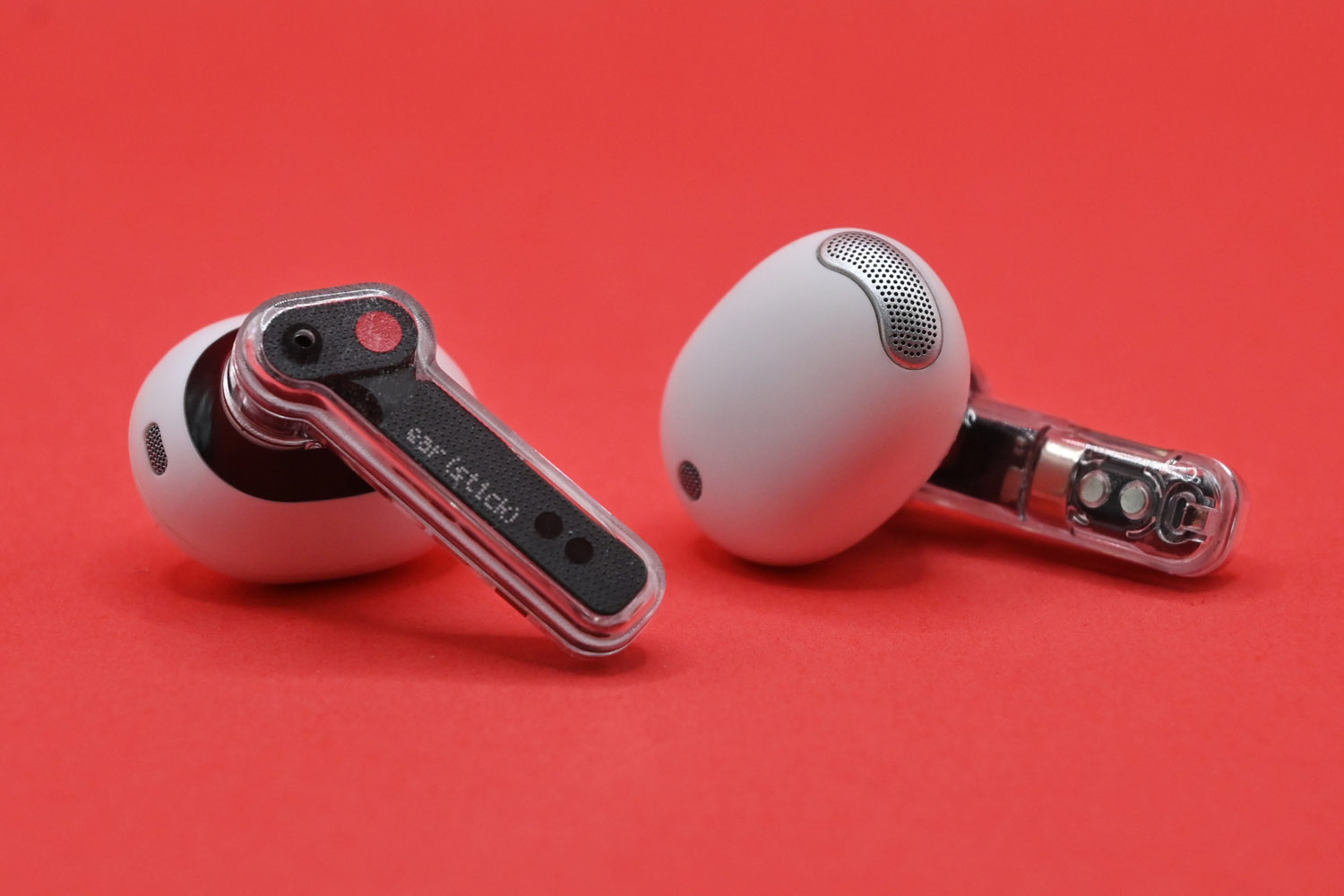 The 12.6mm dynamic drivers crammed into each earcup are larger and more sensitive than those in the In-Ear 1 – but they should be, as they sit further away from your ear canal and don't form a tight seal. The outside world. As a result, you'll be more driven, and you'll need to listen at a slightly higher volume for best clarity.
Headphones often take a back seat to bass compared to real ears, and we thought that might be the case here, but sound quality depends a lot on getting the angle right. We lost all low-end when the stems were pointed straight down, but the 45-degree angle gave much better performance. The EQ trick can dial back an impressive amount of bass presence, but it's not particularly subtle, so some tracks sound louder than they should.
There is generally less definition than Ear 1 at both ends of the frequency range, with cymbal breakdowns and hi-hats clearly lacking. Passive isolation is basically non-existent, which can help songs feel airier and less stuffy, but means you'll need to mow down the volume to prevent background distractions.
These are still warm and energetic headphones that will please casual listeners, but you don't have to be an audiophile to appreciate what's missing from the mix.
No ear stick judgement.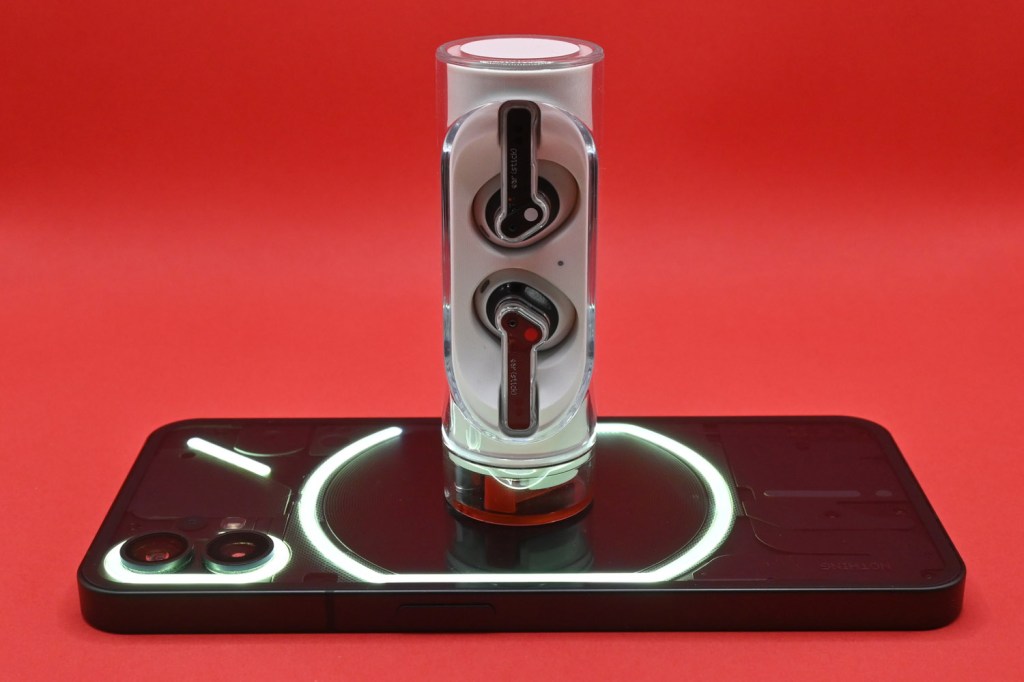 We get it, not everyone likes headphones. With hacking silicone tips, the earbud is sure to find its fans, and the design of anything here is sleeker than ever. Some combination with the company's phone should not be sniffed at either.
EQ settings can't replicate in-ear sound quality though, and there are plenty of options that offer more features for £100. Active noise canceling and wireless charging are in the budget.
We mustn't ignore the fact that nothing is a small brand, which cannot swallow the volatile funds of giant multinationals, so the price should reflect that. But flashy styling aside, I don't believe there's enough to justify the money.
No ear sticker technical details
| | |
| --- | --- |
| Drivers | 12.6 mm flexible |
| ANC | no |
| Bluetooth version | Bluetooth 5.2 |
| Codec support | AAC, SBC |
| Durability | IP54 |
| Battery | 7 hours (buds), 29 hours (bud + case) |
| Sizes | 30x19x18mm, 4.4g (bud) 87x30x30mm, 46.3g (case) |