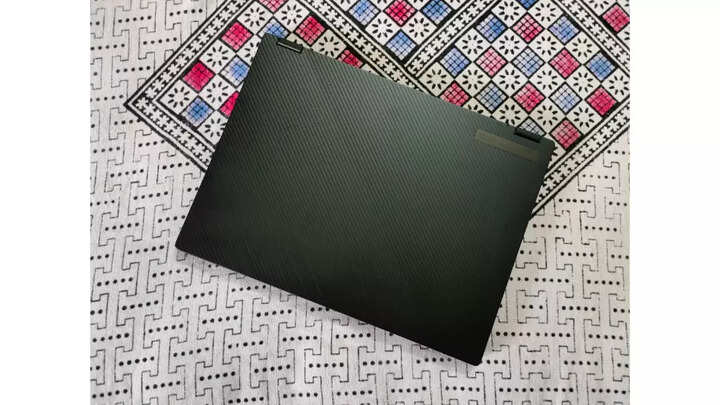 Taiwan-based tech firm Asus launched the ROG Flow X13 hybrid gaming laptop in India recently. The laptop comes at a starting price of Rs 1,21,990. We spent some time with a premium Windows machine and here are our key takeaways.
Asus ROG Flow X13: Design
ROG Flow X13 comes in a thin and light frame. The design and color aesthetics have been kept calm and minimalistic, with a raised strip running diagonally across the back of the display. The entire body color scheme is kept in black and the laptop's compact size makes it easy to pack it in any of your backpacks.
It looks like a work-only laptop and that might benefit the gamer in you who doesn't want their laptop to say that it's meant specifically for gaming. With a light and compact design, ROG Flow X13 will allow you to combine work and play in one machine.
The chassis is slightly thicker than the display panel. The hinge mounts the display to the chassis at two points quite securely. However, you should be careful when rotating the display back and do so slowly. Since the laptop is convertible, the display rotates on a hinge to turn your device into a tablet as well, should you need to use it that way. ROG Flow X13 comes with stylus support and along with touchscreen input, it adds flexibility in using the device. Let's say you are in a small meeting with five-six people and you only have a laptop screen to rely on to explain some topic, then the design will help you place the laptop in a flat position 180 degrees in the middle of the table and everyone can see the diagram or presentation. ROG Flow X13: Performance and battery
The ROG Flow X13 unit we reviewed came with an AMD Ryzen 9 6900HS with Radeon graphics coupled with an Nvidia GeForce RTX 3050 Ti laptop GPU. It has 32GB of RAM which supports the power of the machine.
We started testing the new laptop by playing Borderlands 3 on Ultra graphics settings in Performance mode. We have set the maximum frame rate in the game to 60 fps. The game is quite smooth and we didn't encounter any glitches during the session that lasted almost four hours. For a smoother gaming experience, you may want to go easy on the graphics settings. We also switch between Default and FPS graphics settings via the Armory Crate Game Visual settings. The FPS setting brightens darker areas of the screen when you're in the game, and it can slightly increase your chances of spotting enemies faster in tight first-person shooting scenarios.
In our tests, the ROG Flow X13 turned out to be a powerful gaming machine that can handle AAA games well. On the other hand, heat dissipation can be a big concern while gaming if you don't use a laptop cooling pad because the heat tries to escape from the right side and the bottom of the chassis and if you keep the ROG Flox X13 on a desk or on a bed during your gaming session, the top the chassis or the top of the keyboard can get very hot.
There's enough space on the chassis to rest your wrist while typing and the trackpad is spacious too. Touch and pen input is very fast and you won't face any problems there, with applications opening instantly. When used in tablet mode, the laptop may feel heavy for one-handed operation. The ROG FlowX13 comes with Dolby Atmos powered speakers and there is clear sound reproduction with very little distortion even at full volume but it's not loud enough for a room and it's better to play with your headset. Instead of Spatial sound in settings, you can use Windows Sonic settings when using headphones.
After about 10 minutes of running Borderlands 3 on the system, the battery level dropped from 46% to 30%. This is when we don't plug in the laptop to charge. The Ultra setting in the game will consume a lot of battery so, to state the obvious, keep it charging while going into a gaming session.
When the ROG Flow X13 idles for several hours in Performance mode, the battery level drop is slower. In our tests, the laptop's battery level saw a 30% drop within 2 hours after we charged it to full (so 100% to 70%). In the next 2 hours, the battery level reached 46%. Very light tasks like typing and playing music at low volume won't cause a sudden drop in battery level either. Oh, but if your work involves 20-25 tabs open in your browser, or you're working on graphics-intensive applications, then it will affect the battery level. But the battery life is good enough for most office-related tasks. If you use the laptop for some light tasks and don't run any heavy applications, it can give you more than five hours of battery life on average, which can stretch to almost six hours. If you are playing games, then there is not much problem as the charger will just be plugged in.
decision
The ROG Flow X13 is a light and fast machine that can be a good choice for gamers who want to bring the same laptop to work. The compact design with sturdy hinges, attractive matte finish and compact form factor make the laptop easy to carry anywhere. It has a battery backup of about 4.5-5 hours on light to moderate usage which we feel could be more considering Asus has marketed it as an all-round laptop and not just a gaming laptop. The heat dissipation of the unit could also be better but overall, the ROG FlowX13 is a light and powerful premium hybrid laptop from Asus that suits your work and gaming needs.
FacebookTwitterLinkedIn
---
Top Comments
Prakash Shrivastav
2 days ago